Collecting prayer beads has been a hobby of mine for many years. Within my connection you will find prayer beads of every shape, size and color from a variety of religions. If you were to look through my collection you would find Protestant prayer beads, Buddhist malas, and many Catholic rosaries and prayer chaplets. However, until recently I did not have any non-traditional rosaries within my collection. This was largely due to the fact that I was unaware of these form of prayer beads. Non-traditional rosaries encompass a wide rang of prayer/mediation beads that are used within non-traditional spiritual practices. This is the first rosary of its kind to grace my collection. Unlike many other forms of prayer beads, this set is designed to be used by anyone of any religion, but holds a special interest to those who seek a connection with the feminine aspects of the Divine.
A Truly Unique Set of Prayer Beads:
Designed by Master Healer Jayne Wood, this form of prayer beads was designed especially for those who seek a connection with the Divine Feminine. She created this design with the cycles of a woman's life in mind - that of maiden, mother, and crone (elder/wise woman/grandma). For this design she choose 3 varieties of genuine moonstone beads: peach, white, and silver. Moonstone has long been used as a symbol of the Goddess within many forms of spirituality. This stone has a beautiful reflective quality which is reminiscent of the moon. For divider beads she choose genuine quartz crystal beads caped with silver-plated findings: adding a very elegant cosmic look. Quartz is consider an amplifier and a cleanser of energy, thus aiding one's spiritual practice. Connecting the circlet of beads is a beautiful trinity symbol known as a triskele. Of all the trinity symbols I have seen this is one of my personal favorites, as it can be dated back thousands of years. Finishing the design is a lovely sterling silver Goddess medallion that possesses a Celtic flare. In addition to being a symbol of the Divine Feminine, the medallion could also represent nature or the tree of life due to its interwoven quality. Another unique aspect of the Triple Goddess Rosary is that it is all about the symbolism of 3. Working with the energy of 3, it is made with 3 decades of 9 genuine, 7mm moonstone beads (3x3=9, 9x3=27, 7+2=9). It has 27 beads x 7mm each=189= 1+8+9=18=1+8=9, 3 beads x 7mm each=21, 2+1=3. This was done by accident, as the artist normally uses 6mm beads, yet this rosary has similar numerology to her other Triple Goddess rosaries – it is all about the symbolic meaning of 3.
You may be wondering "Why is the number 3 important?" That is a good question, the number 3 has a place within many forms of spirituality. The following are a few examples of its symbolism: the triple aspects of the Divine Feminine or Goddess - Maiden, Mother, and Crone; the virtues of faith, hope and love; the cycles of a woman's life (which are the same as that of Goddess symbolism); and of course the Christian Trinity of Father, Son and Holy Spirit. As you can see the number 3 plays a strong role within many religions.
Of all the rosaries in my collection, this is the only one that was created by a professional master healer using intention. Personally, this is a subject which I find very fascinating. She makes all varieties of rosaries from Christian rosaries to Pagan prayer beads, and focuses her intention on the theme of what she is making for each individual. In regards to the making of her Triple Goddess Rosaries, Ms. Wood says it best through her inspiration and intention - "I call upon the Goddess of perfect love, who purifies the seas in which worlds are born. Behold her image, crowned with the deepest glory of the sunset, silver, and crystal, robed in the deepest black. I call upon the Goddess who sets the stars in motion upon the endless mirror of night; Maiden, Mother, Crone." ~ Jayne Woods
About The Artist: Jayne Wood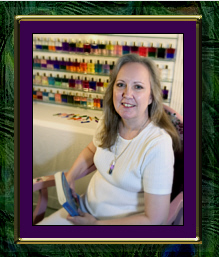 Based in Georgia, Ms. Wood uses her expertise as a master healer and energy worker to create truly one of a kind rosaries and prayer beads. It has been her life's journey to learn and grow as a healer. She currently holds a Masters degree in Metaphysics. Her metaphysical training took flight in the late the 1980's, but through her training lifetimes of knowledge and wisdom have crept to the surface of her consciousness only to be re-learned and refocused as she constantly explores new concepts and ideas. In the late 1990's Ms. Wood received training as an Aura-Soma Practitioner. Today, she is an Aura-Soma Level Three, Advanced Practitioner. The picture above is of Ms. Wood in her healing cottage in front of her Aura-Soma bottles. Through her journeys, energy work has been the foundation of her healing practice. She acquired the level of Master Teacher and offers many classes on metaphysics and energy work. She is trained in Hypnotherapy as a certified Past Life Regression Therapist specializing in Life Between Lives Regressions. She is a Certified Crystal Healer and also offers crystal healing classes. Classes are private for individuals wanting to be attuned to a healing energy and can be done in person, over the phone or internet. Private healing sessions are available in Woodstock, Georgia.
What makes Infinite Spirit Unique:
Each rosary is crafted with loving, intention and energy work by Jayne Wood's herself.
Sensing the healing energy of crystals and gemstones, Jayne creates unique pieces of jewelry with healing properties. Although these works of art are esthetically beautiful, they are much more than what meets the eye; they also have distinctive healing and balancing properties.
She offers a wide selection of rosaries and prayer beads to assist all spiritual paths and religions. Below are links to her designs.
Heirloom Quality Rosaries
Custom work -

Custom rosaries are also available upon request to

aid in eliminating a particular ailment, or support a healing process at no extra charge.

Guarantee - All

Infinite Spirit

creations are presented in good faith and are made from naturally occurring stones, mined from the Earth, unless otherwise noted.

Repairs

to all

Infinite Spirit

jewelry and rosaries are done at no charge (customer must pay all applicable shipping charges) for up to one year from time of purchase.
First off I would like to note that this rosary was not a review sample. I purchased this rosary for my collection at full price because of its uniqueness and beauty.
Jayne is a wonderful person to work with, not only did she create an amazingly beautiful piece for my collection, she created a rosary that seems to radiate harmony and love. Personally I find this truly amazing. When I use this rosary I feel the loving presence of the feminine aspect of God watching over me as a loving mother does her child. Needless to say this has become one of my top three favorite rosaries. Unlike traditional rosaries, you create your own prayers for this variety which I truly enjoy.
If you are looking for a truly unique set of prayer beads, I highly recommend Infinite Spirit. Out of 10 stars I give this shop 11.